THE JISE 2015 WILL TAKE PLACE IN THE UNIVERSITY FRANÇOIS-RABELAIS, 3 RUE DES TANNEURS, IN TOURS.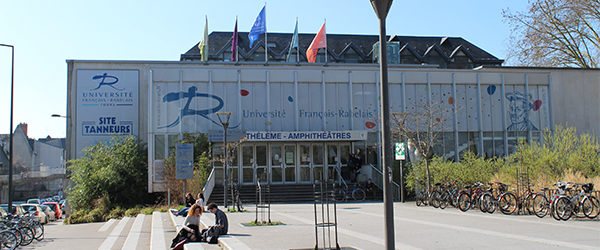 FROM THE RAILWAY STATION TO THE UNIVERSITY
www.voyages-sncf.com
Tours is about 1h15 far from Paris by train. Many TGV depart from Paris Montparnasse station or Charles de Gaulle airport towards Tours.
Be careful, some trains don't stop downtown : you have to get off at Saint-Pierre-des-Corps and to take the SNCF suttle (5 minutes). Once you are at the railway station of Tours, you can reach the university quickly and easily.
---
BY TRAM
approximately 10 minutes
From the railway station, if you want to take the tram, follow the direction « Vaucanson » and stop at the station Anatole France. If you look towards the Loire, the university François Rabelais is on your left.
---

ON FOOT
about 15-20 minutes
Exit the railway station, turn left into the pedestrian street of Bordeaux. At the end of the street of Bordeaux, you arrive at the place Jean Jaurès. Turn right and walk up the whole Rue Nationale to the Loire. You reach the place Anatole France. Before the bridge turn left. You are in the street of Tanneurs . The university is in front of you, on your right.
---

BY CAR
A10 (Paris – Bordeaux), A28 (Le Mans, Rouen), A85 (Nantes – Bourges). Exit at Tours Centre.
---

BY PLANE
www.tours.aeroport.fr
There are regular lines from Marseille, London Stansted, Dublin, Porto and Marrakech. From the airport you can take a shuttle to the station of Tours. You can also take a taxi (about 20 euros).